"If ever there were a spring day so perfect,
so uplifted by a warm intermittent breeze that it made you want to throw
open all the windows in the house and unlatch the door to the canary's cage,
indeed, rip the little door from its jamb, a day when the cool brick paths
and the garden bursting with peonies seemed so etched in sunlight
that you felt like taking a hammer to the glass paperweight
on the living room end table, releasing the inhabitants
from their snow-covered cottage so they could walk out,
holding hands and squinting into this larger dome of blue and white,
well, today is just that kind of day."
---
"You are so beautiful and I am a fool
to be in love with you
is a theme that keeps coming up
in songs and poems.
There seems to be no room for variation.
I have never heard anyone sing
I am so beautiful
and you are a fool to be in love with me,
even though this notion has surely
crossed the minds of women and men alike.
You are so beautiful, too bad you are a fool
is another one you don't hear.
Or, you are a fool to consider me beautiful.
That one you will never hear, guaranteed."
Excerpt from Billy Collins' poem Nightclub.
---
Milky Way, Cherry Springs State Park, Pennsylvania

photo via george
---
---
---
---
Happy July 4th!
photo credit: mamojo
---
Johannes Kepler dated 11 women to be his second wife after his first wife died.  He really liked the 5th woman, Susanna Reuttinger, but he took too long to make a decision. So she moved on while he continued to woo another 6 women, none of whom he liked.  If he had followed the formula, he would've asked Susanna to marry him.
In the end, Kepler went back and re-wooed Susanna.  They apparently had a happy marriage.
Robert Krulwich:
So remember: At the end of each interview, you either make an offer or you move on.

If you don't make an offer, no going back. Once you make an offer, the game stops.

…the best way to proceed is to interview (or date) the first 36.8 percent of the candidates. Don't hire (or marry) any of them, but as soon as you meet a candidate who's better than the best of that first group — that's the one you choose! Yes, the Very Best Candidate might show up in that first 36.8 percent — in which case you'll be stuck with second best, but still, if you like favorable odds, this is the best way to go.

Why 36.8 percent? The answer involves a number mathematicians call "e" – which, reduced to a fraction 1/e = 0.368 or 36.8 percent. For the specific details, check here, or Alex's book, but apparently this formula has proved itself over and over in all kinds of controlled situations. While it doesn't guarantee happiness or satisfaction, it does give you a 36.8 percent chance — which, in a field of 11 possible wives — is a pretty good success rate.
image credit: Robert Krulwich/NPR
(via Radiolab)
---
---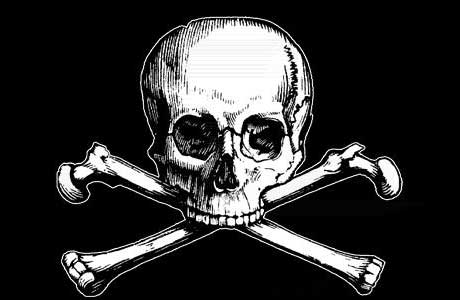 Now this is interesting. The skull and crossbones was originally a symbol for resurrection. At the site of Jesus' crucifixion, there was a skull and crossbones symbol, except the crossbones formed a t-type cross (like the one common to Christianity) instead of a x-type cross (like the one in the image above). Then later, ship captains used the skull and crossbones in their logbooks next to the names of crew members who died (my guess is to represent the afterlife). So eventually, the crew came to think of the skull and crossbones as a symbol of death, not of resurrection.
There's more to this story…like how pirates co-opted the skull and crossbones to brand themselves and it wasn't even the most popular pirate symbol. Competitors included a bleeding heart and an hourglass. And if it weren't for a scandalous court case involving a pirate and his female crew members, then who knows if we would think of the skull and crossbones as we do today.
Really interesting podcast. Check it out.
---
Odontodactylus scyllarus (image credit: Roy L. Caldwell)
The peacock mantis shrimp swings its club so fast that even the *shock wave* produced by the swing is strong enough to fracture its prey. Crazy.
Something that can swing that fast multiple times and not get damaged itself must be really strong, so scientists created a material modeled after the structure inside the mantis shrimp's claw.  They're hoping to use it in planes, cars, helmets, and armor.
image credit: Roy L. Caldwell / UC Berkeley, Wikipedia
(via The Skeptics' Guide to the Universe and The Washington Post)
---
Episode 152: Peeps, Dolphins, and Video Games
The US Navy has military dolphins that look for mines and military seals that look for intruders.  So we literally have Navy seals.  Hahaha.
How to get rid of those leftover Marshmallow Peeps, make good use of your pet dolphin, and play video games forever. 
---
I think mosquitoes are useless. Worse than useless. But I figured they must serve some ecological function…like maybe they're an important food source. Turns out, mosquitoes aren't even good for that.
But there is one thing I heard in this podcast that I'll concede to the mosquitoes: they probably kept people from overrunning tropical rain forests sooner rather than later.
Also, Brazil's got this crazy sneaky evil genius genetics thing that wipes out more than 90% of the mosquitoes in a local area. Whoa.
---
TOM JOBIM & ELIS REGINA - AGUAS DE MARÇO by isidoro rodriguez
La histórica grabación de Tom & Elis de Aguas de Março, del DVD Aguas de Março, integrante del box Maestro soberano publicado en Argentina por RP music
---
Self-Portrait by Chuck Close
Seen at the Museum of Arts and Design's Out of Hand exhibit.
At first I thought this was paint on fabric, and that the "digital" theme of the exhibit had to do with how the paint was applied.  But actually the whole thing is FABRIC.  It's an example of digital weaving.  The entire image is made from weaving different colors of thread together.  Not a drop of paint anywhere.  Wow!
(via Museum of Arts and Design and Core77)
---
---